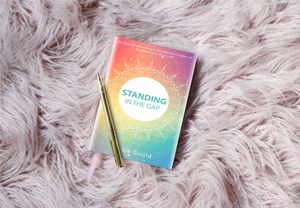 Shipping: Free Shipping for USA orders over $99.
We are all creators of the world we live in. What we are experiencing internally reflects into our outer world. Along with The Universe and God, we co-create everything that happens in our lives. We are in control, and our thoughts and feeling create what we attract.
The reason I titled this book "Standing in The Gap" is because we are always in the gap. It's the in-between part of where we are now and where we'd like to be.
When we attract our desire, we have the next desire that we go after. When we attract that, we have another. We are constantly in that gap of getting there. We area always creating a new gap (the next gap) because we are designed this way to strive for more, want to be better or achieve something else. This is the gap we stand in every day.
Journaling is one of the best ways to get clear about everything and anything and that's why this book is created as a journal exercise. Writing things out by hand does so much to connect you to your true feelings and thoughts. Things will come up if you allow yourself to free flow and be uncensored. When you journal and just allow things to come, you'll find blocks that you didn't even know existed.
The purpose of this book is to use these 40 days of journaling as a tool to create and attract what you want in your life. You will declare one thing that you desire to abundantly attract as your creation. Inevitably what will happen, if you stick to this daily, is that you will start to attract great things in other areas of your life as well. That's just what happens when you're at a high vibration.
Shipping: Please allow 10 days for print/physical book to arrive, ebook version will be delivered to your email soon after purchase. If you have any questions, please email support@lifechangingnenergy.com 
---