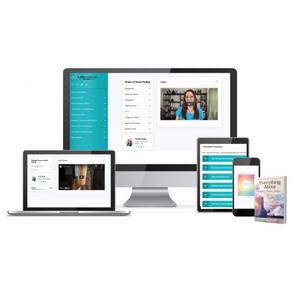 Shipping: Free Shipping for USA orders over $99.
JOIN THE #1 RISING TREND IN WELLNESS!
BECOME A CERTIFIED SOUND HEALER
Science is finally catching up to what our ancestors already knew -- that our mind, body, and spirit experience healing through sound. 
The use of sound and frequency therapy is a hot trend in the healing arts and now is the perfect time for you to join the wave and learn about this magical healing modality. You can then use your knowledge to help grow or start your business, improve your own healing journey, and help family and friends.
Once only used in ancient cultures, science is proving the benefits of sound healing. More and more people are looking for alternative methods to create holistic well-being, especially methods that address the mind, body and spirit. Now, sound healing practices can be found in medical facilities, corporate wellness programs, elder care facilities, holistic health centers, life coaching, personal development programs and more. 
If you feel called to this work and have been wanting to add sound healing to your toolkit, our Sound Healing certification programs are a fantastic place to get new knowledge and skills. 
 "In sound we are born, in sound we are healed"
― Mehtab Benton
 2 OPTIONS
Sound Healer Certification
ACCREDITED THROUGH THE COMPLEMENTARY MEDICAL ASSOCIATION


(Prices above reflect the investment after applying the 5% off coupon) 
Who is the Level 1 & 2 certification programs for?

If you are an aspiring sound healer or someone who has an interest in creating a solid foundation of knowledge in sound and frequency therapy, this program would be great for you. You will get 3 certifications when you're complete - Sound Healer Fundamentals, Crystal Singing Bowls, Tuning Forks, plus a Crystal Singing Pyramid Masterclass participation certificate.

Perhaps you've experienced the healing powers of a sound bath, frequency tuning, or have had music move you to tears, and you want to dive deeper into the magic of sound healing and why it works.

No matter if you want to use this for yourself and your spiritual growth (or to help yourself with chronic issues), or you want to use this to start or expand a healing practice so you can impact and transform lives, this will give you what you need to conduct sound baths confidently.
****Note: new Level 2: Tibetan Singing Bowl Certification course sold separately

How do I know if I should get the EXPERT Level certifications?

If you want to get a deeper understanding and get more detailed instructions on how to conduct sound healing sessions, then choose the Expert Level. We build on the information in Level 1 & 2 and go more in depth over specific physical and spiritual ailments. There's a little music theory so you know how to know what instruments, frequencies and notes to pick, and how to apply it properly for your client (including tapping into your intuition). We also share how to include additional modalities like meditation, crystals, essential oils and herbs.

Maybe you're someone who already has a healing practice or you want to start a business and you know sound healing is an important aspect in your sessions. Then, get both ALL levels.

Please note: If you get Level 1 & 2 only and later want to add the Expert Level, it will be at a higher price. This package discount for ALL levels is the best deal. 
Extra BONUSES!
When you enroll in both the SOUND HEALER CERTIFICATION: LEVEL 1 Fundamentals and Level 2 BUNDLE (shown above) ... 
You'll also receive lifetime access to The BUSINESS OF BEING A HEALER SUMMIT (COMING EARLY MAY) with over 8 hours of interviews from a dozen successful healers such as NY Times best selling authors Christy Whitman, Gay Hendricks, and Lisa Nichols.
Also hear the behind the scenes of other 6-figure healers in specialties such as astrology, reiki, sound healing, energy work, sacral-cranial therapy, yoga, and more, including a shaman. Use their tips and inspiration to jumpstart or exponentially scale your soul-centered healing business.  Value ... priceless!
PLEASE NOTE: Courses are not refundable. Immediate Access. 
Who's Teaching this Program? 
Vickie Gould is a sound and energy healer and owner of Life Changing Energy. She likes to be known as the "Energy Shifter" and has shared the healing sounds of singing bowls, tuning forks, singing pyramids, sound drums and more on her social media channels which have been watched by well over 10.7 million people across the world.
Vickie is a 11x best selling author with books on crystals, chakras, Law of Attraction, writing and growing businesses. She is certified in Reiki, Law of Attraction, life and business coaching, and is also a Master Herbalist. She has been featured on NBC, entrepreneur.com, The OM Times, HuffPost, Tedx UofM, and has graced Lisa Nichols' stage. She's also been featured on summits alongside Joe Vitale and T. Have Eker. 
****Note: new Level 2: Tibetan Singing Bowl Certification course sold separately
Not only will you become certified in The Fundamentals of Sound Healing, but you'll also get 2 of my best selling ebooks, so you can also learn about crystal healing and Law of Attraction manifestation techniques.
"Everything About Chakras, Crystals, Zodiac" AND "Standing in the Gap"
(available for download after access to the program)
Shipping
Your course will be delivered via email and you'll receive a login within 48 hours of purchase -- these emails can go to spam sometimes. Please email support@lifechangingenergy.com if you don't receive your login details. 
---