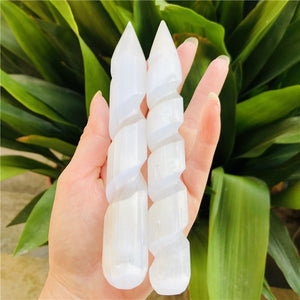 Shipping: Free Shipping for USA orders over $99.
Selenite spiral wands are hand-carved from the mineral selenite, a form of gypsum. These wands feature a spiral design that is believed to enhance the natural properties and flow of energy from the selenite.
Selenite is known for its ability to help clear negative energy and promote mental clarity and spiritual awareness. It is also believed to help with communication and aid in connecting with higher spiritual realms.
The spiral design and point of the wand is thought to help focus and direct energy during spiritual practices such as meditation or energy healing. Some practitioners may use the wand to trace energy pathways or perform energy work on the body.
Note: Photos are for example purposes only, each one is unique and different.
Shipping and Returns

PAYPAL | VISA | MASTERCARD
Please allow approx. 4-5 weeks for delivery.  
If any of your items are damaged during shipment, please send us a photo and let us know within 10 days of receiving so that we can replace your item, otherwise we consider the sale final.  Returns on this item are not accepted.
Refund Policy Link:
https://www.lifechangingenergy.com/pages/refund-policy

Shipping Policy Link:
https://www.lifechangingenergy.com/pages/shipping

Notice for international Buyers:
https://www.lifechangingenergy.com/pages/notice-for-international-buyers
If you have any questions at all, please don't hesitate to get in touch with us via email at support@lifechangingenergy.com.
---