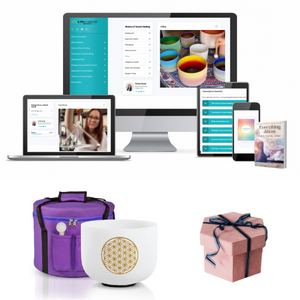 Shipping: Free Shipping for USA orders over $99.
This special bundle includes .... 

The sacred solfeggio 528hz quartz crystal bowl and case valued at $476.
3 of our accredited sound healer certification courses (fundamentals, crystal singing bowls, and tuning forks) valued at $1674, which is accepted by Yoga Alliance and some massage organizations for Continuing Education Hours.
You'll also receive a SURPISE crystal gift (necklace, bracelet, earrings, stones, or ... a complete surprise!)

Full retail value of the package is almost $2200 - you can get it today for just $397 (please apply the 5% off code).
Discover the healing powers of crystal singing bowls, tuning forks, singing pyramids and more in this 3-part certification course that includes the fundamentals of sound healing - background, history and science. 

you want to use this for yourself, your friends and family or clients, you'll be able to create whole body wellness, down to the cellular level. 




AND the magical 8 inch 528hz quartz crystal singing bowl with case, in perfect pitch (+/- 5 cents), which works for all the chakras.
PLUS, a FREE BONUS SUPRISE GIFT!
---