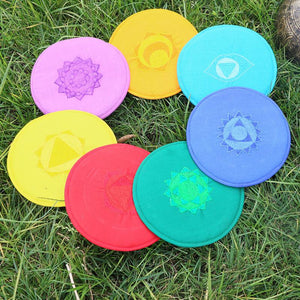 Shipping: Free Shipping for USA orders over $99.
A 7 piece pad set for singing bowls typically includes seven circular pads made of soft material that are used to place underneath the singing bowls. The pads are designed to prevent the bowls from scratching or damaging the surface they are placed on, as well as to provide a stable base for the bowls to rest on.

The set includes pads of different colors representing each chakra, making it easy to match the appropriate pad with the corresponding bowl.

Using a pad set for singing bowls is recommended as it not only protects the surface on which the bowl is placed but also helps to enhance the sound quality of the bowl by providing a stable base and reducing unwanted vibrations. It also makes it easier to move the bowl around without scratching surfaces or causing damage.
Size: 10cm, 16cm, 20cm
Material: Textile & Fabric
Feature: Handmade
Weight: 30-120g
Note: Color may vary depending on computer settings.
Shipping and Returns

PAYPAL | VISA | MASTERCARD
Please allow approx. 5 weeks for delivery.. 
If any of your items are damaged during shipment, please send us a photo and let us know within 10 days of receiving so that we can replace your item, otherwise we consider the sale final.  Returns on this item are not accepted.
Refund Policy Link:
https://www.lifechangingenergy.com/pages/refund-policy

Shipping Policy Link:
https://www.lifechangingenergy.com/pages/shipping

Notice for international Buyers:
https://www.lifechangingenergy.com/pages/notice-for-international-buyers
If you have any questions at all, please don't hesitate to get in touch with us via email at support@lifechangingenergy.com.
---