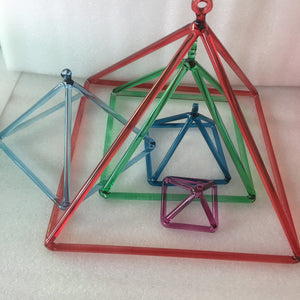 Shipping: Free Shipping for USA orders over $99.
Our Crystal Singing pyramid are manufactured from 99.99% pure quartz crystal, and are the finest, pristine, crystal singing pyramid. The crushed quartz is heated to at least 1800 degrees in the manufacturing. Then, they are tested to determine the musical note. Although the larger pyramids have a deeper, lower octave, tone, it is not the size that determines the 'note' of the pyramid. 
Using singing pyramids helps to create a state of deep meditation. All our singing pyramid have amazing, clear, deep and rich vibrational resonance with the power to heal. They are made of high purity quartz crystal so they naturally contain the ability to energize, clear and enhance the energy in any environment, making them incredibly resonant.
Specifications:
Qty: 5 pcs in total

Color: Light color plated

Sizes: 

3 Inch/ 7.62cm
5 Inch/ 12.7 cm
7 Inch/ 17.78cm
9 Inch/ 22.86cm
11 Inch/ 27.94cm

FREE BONUS GIFT 
2 pcs Crystal Mallets + 2 pcs Rubber Mallets

Strings
Note: Pyramids may not be perfectly smooth. The process of melting the quartz and shaping the rods may result in slight dents or bumps. This should not be considered a defect and does not affect the sound or effectiveness of the pyramid. 
Shipping and Returns

PAYPAL | VISA | MASTERCARD
Please allow approx. 3 weeks for delivery. 
If any of your items are damaged during shipment, please send us a photo and let us know within 10 days of receiving so that we can replace your item, otherwise we consider the sale final.  Returns on this item are not accepted.
Refund Policy Link:
https://www.lifechangingenergy.com/pages/refund-policy

Shipping Policy Link:
https://www.lifechangingenergy.com/pages/shipping

Notice for international Buyers:
https://www.lifechangingenergy.com/pages/notice-for-international-buyers
If you have any questions at all, please don't hesitate to get in touch with us via email at support@lifechangingenergy.com.
---