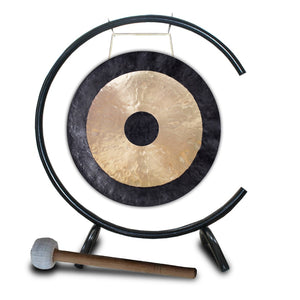 Shipping: Free Shipping for USA orders over $99.
This comes with a free Chinese gong mallet and C Stand

The Chau Gong, also known as the Tam-Tam Gong , is a large, flat, and circular percussion instrument that originated in China. It is typically made of bronze and has a deep, reverberating sound that can range from a soft whisper to a powerful crash.

Our Chau gongs are made with traditional methods by world-class artisans.

The Chau Gong is known for its rich and complex harmonics and is often used to create dramatic and atmospheric soundscapes in music. Its deep and resonant sound is also believed to have therapeutic and meditative properties and is used in sound healing and meditation practices.

Gong therapy is a type of sound healing that involves the use of gongs to produce sounds that can promote relaxation, reduce stress, and improve overall well-being. Some of the benefits of gong therapy include:


Reducing stress and anxiety: The sound vibrations produced by the gongs can help to reduce stress and anxiety by promoting relaxation and calming the nervous system.
Improving sleep: Gong therapy can help to improve the quality of sleep by promoting relaxation and reducing stress, which can lead to better sleep patterns.
Boosting the immune system: Some studies have shown that sound therapy, including gong therapy, can help to boost the immune system by increasing the production of white blood cells.
Enhancing creativity and intuition: The vibrations of the gongs can stimulate the brain and enhance creativity and intuition.
Promoting mindfulness and meditation: Gong therapy can help to promote mindfulness and meditation by helping individuals to focus their attention and enter into a meditative state.
Reducing pain and tension: The vibrations of the gongs can help to reduce pain and tension in the body, which can lead to improved physical health and well-being.
Size: 16 inch/40cm
Weight: 5.3 kg
Diameter (cm): 31-50cm/ 12-19.7inch 
Gong stand diameter: 62cm/ 24inch
Shipping and Returns

PAYPAL | VISA | MASTERCARD
Please allow approximately 5 weeks for delivery. If you have any issue, please contact us at support@lifechangingenergy.com within 7 days of receipt. After that time, we consider all sales final. 
Refund Policy Link:
https://www.lifechangingenergy.com/pages/refund-policy

Shipping Policy Link:
https://www.lifechangingenergy.com/pages/shipping

Notice for international Buyers:
https://www.lifechangingenergy.com/pages/notice-for-international-buyers
If you have any questions at all, please don't hesitate to get in touch with us via email at support@lifechangingenergy.com.
---